Collective
'Collective' has been a process of accumulation. Over several years and across the many seemingly disparate locations we have visited, we have met with and photographed hundreds of marked trees. In our images, the makers of the varied traces we found etched into or painted on each tree are absent. We are left to wonder who is responsible for these marks, and why? Is it a secret code? An expression? What kind of message is this?
The trees and their marks have told us stories of loss, trauma, healing, renewal, cooperation, and guardianship. These stories speak to the immediacy of this moment, where biosystems strain under intersecting crises. Through our work we consider how we might, in approaching our relationship with trees through a new lens, be able to see past ourselves in a way that recognises the significance of our interconnection and honours their autonomy as living beings.
'Collective' is currently at the Art Gallery of Grande Prairie, October 5th 2023 to February 11, 2024, curated by Jessica Groome. Read the curator's essay here.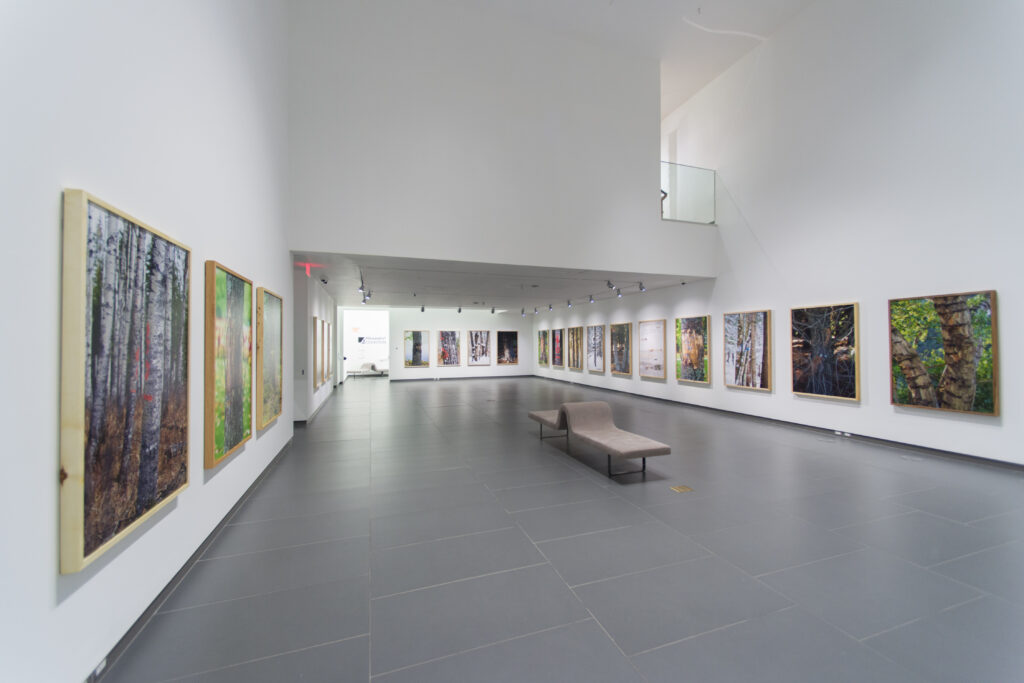 All Images: Miranda Bellamy & Amanda Fauteux, 'Collective', Art Gallery of Grande Prairie, 2023
We acknowledge that the locations visited in the making of Collective are the traditional homelands of diverse Indigenous Peoples.
Kjipuktuk (Halifax, NS, Canada) and wider Mi'kma'ki (which Sackville, NB, Canada, is located within), are the unceded homelands of the Mi'kmaq People. This territory is covered by the Treaties of Peace and Friendship, which the Wolastoqiyik and Mi'kmaq Peoples first signed with the British Crown in 1725. The treaties did not deal with surrender of lands and resources but in fact recognised Mi'kmaq and Wolastoqiyik title and established the rules for what was to be an ongoing relationship between nations.
Ndakinna (which Johnson, Vermont, USA, is located within) is the traditional homeland of the N'dakina (Abenaki / Abénaquis) People, and part of the Wabanaki (Dawnland Confederacy).
The Mana Whenua of Kawau Island, Aotearoa (New Zealand) are Ngāti Manuhiri, Ngāti Whātua, Ngāti Whanaunga, Ngāti Maru (Hauraki), Te Kawerau a Maki, Ngātiwai, Ngāi Tai ki Tāmaki, Ngāti Paoa.
The Mana Whenua of Tuatapere, Aotearoa (New Zealand) are Ngāi Tahu / Kāi Tahu.
The Mana Whenua of Te Whanganui-a-Tara (Wellington), Aotearoa (New Zealand) are Ngāti Toa Rangatira, Taranaki Whānui ki Te Upoko o Te Ika, and Te Atiawa (Wellington).
Treaty 8 territory encompasses Grande Prairie, AB, Canada, and the area surrounding Sturgeon Lake. We acknowledge this area as the traditional and ancestral territory of the Dane-zaa, Nehiyawak, and Dene, as well as the homeland of the Métis. We acknowledge the many Indigenous Peoples who have lived in and cared for these lands for generations.
We honour and pay respect to the knowledge embedded in the traditional custodians of these diverse lands and waters, past, present, and future.
This project is supported by the New Brunswick Arts Board.
The artists would like to thank Manar Abo Touk, John & Pauline Bellamy, Ross Birrell & Alexia Holt, Melanie Colosimo, Cove Park, Regan Gentry, Halifax Regional Municipality, Kate Hamilton, Devin Letourneau, Kevin Osmond, Sean Street, Struts Gallery, Vermont Studio Centre, Jan Warburton Charitable Trust, and Ted Whitaker for their generous assistance with this project.